Mount Hermon Class Notes, 9-9-02
Greetings classmates! This is the first column from your new secretaries, Donna Eaton-Mahoney and Max Millard. At the June reunion, we were both asked to take over the positions from our long-running and dedicated precedessors, Eliza Childs and Will Melton. It was a surprise, and we accepted with some initial doubts, but are now embracing the task as an honored privilege. Max remembered what Benjamin Franklin wrote in his autobiography: "I shall never ask, never refuse, nor ever resign an office." Donna responded more realistically: "We will have to pace ourselves -- I have been informed that the term of office is about 25 years!" Classmates, most of this is up to you. Remember that this column needs to be filled three times a year, and that there's a 5-month lag between submission and publication. We want this column to be the launching pad for a huge 40th reunion in 2007, so please send all your news, chatter, personal reflections and jpg photos to dmeato@aol.com (Donna) or sunreport@aol.com (Max).
From Max: Eliza and Will covered the reunion last time, so I'd like do a prequel -- the news I gathered this spring while making pledge calls for NMH Annual Fund. From now on, if you get a call from me, it won't be for money, just information! Grady Benn, fondly remembered for his soulful singing as a member of the Hermon Knights, is now the principal of Sam E. Hill School, a year-round elementary school in Knoxville TN. He is the father of 9-year-old twins, Meleek (boy) and Monisa (girl). Recently he had a chat with Tank Sherman, a member of the MH class who left before graduation. "He's slimmed down and he has 2 young children," said Grady, who, like Sam Cooke in reverse, has "gone from secular to sacred, singing and playing the piano for his church. "The voice might be the same, but I weigh 40 more pounds. ... I'm so grateful for that opportunity to go to MH. It was the greatest time academically and socially. College was really a breeze after MH." Mark Blaisdell of East Kingston NH, continues to work for the Central Insurance Company, based in Waltham MA. He has 2 children, both of whom are enrolled at the University of New Hampshire this year. His son is a senior, and his daughter a freshman. Skip Carino, a star catcher at MH, was asked about his athletic endeavors after graduation. Turns out he went straight to the Red Sox farm system for 2 years, where he ran head-to-head against future Hall of Famer Carlton Fisk, "so he won that battle." Then Skip entered the military, which ended his hopes of making the majors. But afterward he joined a fast-pitch softball team that won the national championship in '83. Now self-employed as a computer systems consultant in the Boston area, he remains active in basketball, softball and baseball. "I play on an over-40 basketball team that travels to Europe every year for an international tournament. We're currently the 2-time defending champion." Of the reunion, he said: "I hope I can get out there and see everyone. It's been quite a while since I've been there." Next time, Skip. Dr. Peter Freund, a Seattle resident since '75, is a professor at the University of WA's School of Medicine and Chief of Anesthesia Clinical Services for the UW Medical Center. Peter is no longer married, and has no children. "That's always been the problem in my profession," he said. "The hours are just horrendous. Family issues always take a back seat." Still a mountain climber, as at MH, he said: "The high point in my career was about 10 years ago, we climbed a peak in the Himalayas." Randy Johnson, editor-in-chief of the Hermonite for 2 years, has 2 children, a son who is a police officer and a daughter who just graduated from high school. Randy has his own law practice in Columbia MO where he specializes in business and construction law, and does some criminal defense work. "I spent my years at MH getting away from Missouri and loved being away, going to the East Coast and learning about that. Then I spent 9 years on the West Coast, and came back here in '78, and I've been here ever since. I never thought I'd come back to Missouri to live, but I love this part of the world. I have to be near a body of water once in a while. That's the only thing I miss." Tom Myers of Scarborough ME published a book in 2001, Anatomy Trains -- Myofascial Meridians about the manipulation of connective tissue, Tom's area of expertise as a professional rolfer. "My life is planned about a year ahead," he said of his busy practice. "I haven't been to any reunion, but I might show up for the 40th." For information about the book, check out www.anatomytrains.com. Laurie Norton, who starred in the school musical during his jr and sr years and released a duet album with Martha "Martie" Ratcliff (Northfield '67) before graduation, has done everything in his career from touring the country as a professional musician to being a professor at Purdue. Recently he moved to Durango CO where he is getting involved in his son's business, Norton Painting. He is still in touch with Martie, now an attorney in NY City. Laurie would like to attend a NMH reunion, but said, "I've got a feeling it will be retirement time before I get back there. CO looks like home for a while. ... I wish MH well. Some of the best times of my life were spent there." And finally, this late-breaking e-mail from Alex Ives: "I wish very much that I could have joined you all at the reunion, but it was far from possible. I would be very happy to hear any and all news of the events, and of how everyone is. Heard from Jim Johnson, am keeping in touch with him. After 35 years, and life in Boston, London, LA, Australia, Texas, and now even the Midwest amongst six grandchildren, I'm amazed and grateful for all outreach on all behalves to enable me to reconnect to the rich legacy of NMH.... Led Balloon Rules!" That reminds me, if you missed my full-length article about the jug band, which was reunited at the 35th reunion, check it out at: http://www.nmhschool.org/alumni/classes/1967_jugbandarticle.html
Mount Hermon Class Notes, 2-10-03
Our class is now the same age as Lincoln when he was president, older than Shakespeare when he died. When we graduated on June 10, 1967, Martin Luther King Jr. was still leading marches, the Vietnam War was at its peak and the 6-Day War had just ended. The Summer of Love in San Francisco was just starting, "Sergeant Pepper" had just been released, and Richard Nixon seemed a longshot to ever win the presidency, while Bobby Kennedy was considered a likely choice and Teddy was still a golden boy.
Yet for those of us on campus that day, most thoughts were probably on the words of a song popularized by Eric Burdon and the Animals and performed so often by the Hermon Knights: "We Gotta Get Out of This Place."
I remember two things in particular about that day: folk-singing legend Burl Ives -- whom I had idolized as a child -- strolling around the campus wearing green pants, and someone stealing Henry Gibb's graduation speech. Poor Henry, the class president, was helpless without a script, and his performance was a long series of embarrassing silences punctuated from time to time by a few well-honed phrases he managed to drag out of memory. Although I snickered along with the rest, I felt truly sorry for Henry, who was universally well liked. Later I reflected that it must have been either the best lesson in politics he ever got, or the death of his political ambitions.
Jump ahead to last June's 35th reunion. On my first visit to the campus in 25 years, I was requested by Will Melton to take over the class secretary's position. By accepting, I committed myself to writing three columns a year about you, my fellow Hermonites, until 2007. I welcome all e-mails relating to you and your families, sightings of ex-classmates, memories of the old school, and anything else worth the black of ink. Be advised that if you're reading this, I probably have your phone number, and I WILL PURSUE YOU for news if you don't supply me with enough material for the next column.
Due to the hangover effects of the reunion, I didn't need to make a single phone call or write a single e-mail this time. My first item comes from Dana Gordon, a fellow member of the Cloud Crowd, the gang who used to spend afternoons smoking cigarettes and watching TV in a danky cellar near the infirmary. Batman was a popular show down there; we delighted in yelling out the sound effects as they appeared in giant letters on the screen. I asked Dana if he remembered a local TV weatherman we watched back then, a man with such peculiar mannerisms that the show was unintentionally funnier than any comedy. Dana, who went on to a career in radio broadcasting, not only remembered the man's name -- Jerry Loman -- but sent me a printout of a program he had written at the time for the campus' General Electric 235 computer. Titled "Atlantic Weatherman Tally," it calculated the average monthly incidents of coughs, finger points, uhs, "excuse me pleases," mistakes, ear scratches and eyebrow twitches (which finished first with a score of 18.3333). The program ended: "Computed through the courtesy of your 1966-67 senior union."
I came back to campus in order to blow harmonica for the Led Balloon Jug Band, but before the trip I gave a listen to my old, scratched copy of the 1967 Hermon Knights album. It's such an infectiously joyous collection, with so many sparkling individual performances, that I felt compelled to do an Internet search for it. To my astonishment, I found that it had been reissued on CD in 1998 by Flash, an Italian label. The review said with typical cyber-inaccuracy: "This was a prep-rock outfit from Herman College, Massachusetts.... They played between 1961-69 but started recording in 1962 making several tremendously rare LPs. Musically these ranged from early sixties instrumental sounds, to big band jazz and garage covers in the mid-sixties. The Knights 1967, for example, reveals a collection of soul, R&B, beat and ballad covers ranging from soppy goo (Unchained Melody, Under The Boardwalk) to Invasion-style (Bring It On Home, I'm Crying), all done competently but not inspiringly." Unfortunately, the CD was a bootleg, and Flash went out of business just after it was issued, so I was unable to get one. But Brad Waterman, the group's organist and now a tax attorney in Washington, D.C., told me that he still has several mint copies of the album. So, like the Led Balloon's 1967 album and 2002 Northfield concert, perhaps by next reunion the Knights will be available in a new CD release. For those who've forgotten, the rest of the lineup was Grady Benn (vocals, piano), Craig Roche (guitar), Marc Solomon (drums), and underclassmen Doug Houston (vocals) and Varney Hintlian (bass).
One great thing about reunions is that you can talk with people you didn't necessarily know during school days, but whom you can relate to today because of common interests or experiences. I got that feeling from meeting Walter "Skip" Walker, who, like me, is a writer and a longtime resident of the San Francisco Bay Area, where he has a busy law practice during the day. He has published five detective novels, which I can highly recommend after reading his two latest -- The Appearance of Impropriety, a hilarious look at professional basketball, and The Immediate Prospect of Being Hanged, a moody, atmospheric murder mystery set in Massachusetts, where he spends part of each year. At reunion he told an anecdote about another attorney/novelist, best-selling author John Grisham, whom Skip does not admire. Recalling a 750-word review he wrote about Grisham's novel The Client for the Washington Post, Skip said: "I thought the book was just ridiculous, and I made fun of it all the way through the review. I said one nice thing about the book: `John Grisham is the absolute master of the chase scene.' But then I went on to say that we've had little boys being chased and women being chased. What's next, dogs being chased?" Much later, when Walker picked up the paperback edition of The Client, he found a familiar quote among the publicity blurbs: "'John Grisham is the absolute master of the chase scene.' -- Washington Post."
Speaking of books, next time I'll review Dick Upson's science fiction novel Winworld, available from Xlibris.com.
And finally, here's an item that Will Melton forwarded to me from Howard Goldberg '66: "I got a kick out of the article in NMH magazine about the resurrection of the Led Balloon Jug Band. The 1966 Folk Music Society was the place where many of the Led Ballooners first played together as a jug band, doing all the Kweskin songs. I remember a couple of concerts we did that year -- one specifically in Gill. I played a solo -- Dave Van Ronk's Cocaine Blues. I didn't even know what cocaine was, but I pretended I did and tried to sing it as if I was strung out on this unknown substance.... I graduated Phila. College of Art majoring in painting and filmmaking. After 10 years of marriage I just got divorced and have three kids, Ben 8 Hannah 7 and Louk 3. So, every other week I'm a single dad and the next week I'm just single.... I play the Gibson Dove I had at MH although I moved away from the guitar and into piano. I composed quite a bit of music and wrote the book, music and lyrics for an Off-Broadway musical, BUSKERS, which played in New York in 1985. Now I live in LA where I'm a writer and director of independent films. My last film EDEN is set in 1965 at a NE prep school called Mt. Eden Academy. It draws heavily on my MH experiences (including all the folk stuff). It showed at the Sundance Festival, was released in theaters and on DVD, video and cable."
Mount Hermon Class Notes, 6-9-03
I probably had a little more time than Donna for this column because she commutes 60 miles each way to work, and my job as an after-school teacher is just one block from home. I sent out personalized e-mails to about a dozen former classmates whom I remembered, and to my surprise and gratification, most of them responded.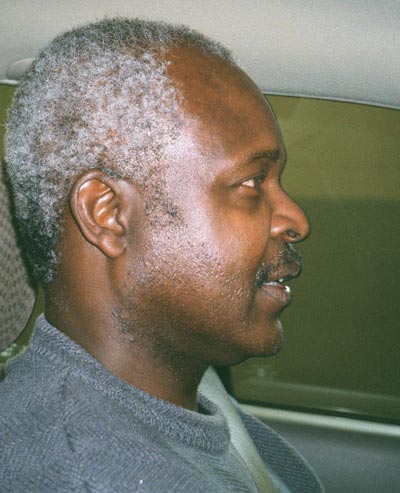 Jim Johnson, on way home from reunion 2002
The saddest message I've received all year came on Memorial Day, when Jim Johnson informed me of the death of his beloved wife, Diana Mae Batterman Johnson. They had been together since they met as students at Lake Forest College. Jim, who lives in Broadview IL, has been one of our class' most faithful and conscientious alumni, both in making return visits to the campus and in staying in touch with former classmates from MH and Northfield. I got to know Jim during the summer of 1966, when we both worked as kitchen aides for the Northfield Conferences, along with Hannah Rikert, Julia Underwood, Debby Seeley, Cindy French, Wendy Alderman, Betsy Childs, and many others from both schools. The boys lived in Moore House and the girls in Hillside, and every night the boys hung around the girls' dorm, waiting for them to emerge. Jim had an eye for the ladies. After the 2002 reunion, he gave me a ride back to Logan Airport and I tested his memory by asking him the name of the movie we had all gone to see at the drive-in that long-ago summer. He laughed: "I wasn't watching the movie." Jim is a modest man who makes big waves in a quiet manner. His family has always been the center of his life, and he raised two sons who graduated from Harvard. Jim, I hope you will have the inner strength and the support of friends and loved ones to get you through the months ahead, and that you will set an example for others about how to handle the greatest of sorrows.
Dave Keene, another pot-and-pan scraper from the summer of '66, lives in Wellesley MA and heads a department at MassHousing, a Boston-based affordable housing lender. He and his wife Alissa have been married 12 years and have a son 6 and a daughter 8. He was the MH class agent for more than 10 years, up until about 1992. He missed the last two reunions because of pressing family matters but will "definitely make the next one." When I called him, his father was visiting him just after leading the parade at the Harvard Univ. commencement, as the oldest living alumnus. Dave's dad was born in 1902 and graduated from Harvard in 1925. "He's deaf, but he still has all his marbles," Dave said with some pride.
At least six members of the class of '67 went on to Johns Hopkins Univ. in Baltimore, including Brad Waterman, Glenn Schwarcz, Jim Archibald, Tracy Ambler, Willy Hermann and myself. I lasted just a year, and hadn't seen anyone from the Hop except Brad for more than 25 years. So it was nice to reconnect through cyberspace.
Glenn Schwarcz, M.D., works as a psychopharmacologist at Rockland Psychiatric Center in Orangeburg, NY, where he specializes in the diagnosis and medication treatment of panic disorder, depression, violence and psychosis. He also holds down a night job doing family practice in general medicine. The father of 8 children from 8 to 28 and several times a grandfather, he wrote: "I enjoy what I do, so it's fun, not work. And I'm careful to balance my life so that I don't get burned out. I in-line skate every day at lunch, sea kayak Wednesday mornings, and whitewater kayak every Sunday." I always admired Glenn for being an overachiever, but thought he would eventually slow down. Not! His identical twin Steve, who left MH after Thanksgiving 1966, went to Columbia law school, worked on Wall Street, then became a law professor at Duke.
Jim Archibald is a corporate trial attorney for Venable in Washington and Baltimore, and his wife Joanne is a real estate agent. Their daughter Karen teaches high school English in Memphis and son John is entering Fordham Univ. in NYC. In the summer Jim and Karen can often be found at their shorefront house on Gotts Island, Maine, near Acadia National Park. Wrote Jim: "Because of its remote location, the house is powered by a fairly large solar electric system, much of which was purchased from NMH alumnus Peter Talmadge, who has a solar electric business in southern Maine. We had it built in the mid-1990s and added a barn last year. My family has had a separate house on another part of the same island since before I was born."
Tracy Ambler, an attorney in private practice, was the MH class secretary for the first 10 years after graduation, but "ran out of gas after about 5. Here's hoping you can retain the drive to get the news and get it in by those absurdly early deadlines." Still married (for the 2nd time), he has 2 stepsons, 1 son and 1 daughter, all grown or in college. He and wife Nancy, an ER nurse, live in bucolic Redding CT and have a "weekend" home in South Yarmouth on Cape Cod where they escape in the summer. He has returned to campus to run in a few pie races, but hasn't been to a reunion since '77. He plans to make the 40th.
Willy Herrman and his wife Sandy moved to the SF Bay Area in 1977, right after their wedding. He began working in a stereo store and has been in the home entertainment business ever since. In 1984 he founded San Francisco Stereo, which now has stores in SF, Berkeley and Mountain View (www.sfstereo.com). He and Sandy have 1 son in high school and another at the Univ. of Oregon. "I haven't been back to a reunion yet," he admits. "I was sorry I didn't make it to our 35th. I really didn't want to get into the 'whose stack is bigger' thing and thought that's what it would be all about. Will (Melton) reassured me that, although the earlier years might have been, this one was all about getting together with people you spent a lot of time with a long time ago and haven't seen since. It sounded like a lot of fun."
Another class member in the Bay Area is Gene Harmon, who was a good friend during junior year when we both lived in Camp Hall, probably the smallest dorm on campus. Gene already had a passion for railroading which he later parlayed into a career. In the 1980s he and his wife Anne, a psychotherapist, moved to Thailand with their 2 sons while Gene worked on the restructuring of the State Railway. In the last few years he started a logistics management company that ran train services from the Pacific Northwest to Southern CA using cross-docks to transfer between road and rail. After 9/11 his financing source dried up, so he closed the business and is now seeking a job in transportation marketing and logistics management. He recently heard from his former roommate Tim Hartshorne ('66) after 35 years of no contact. Gene wrote: "I don't participate in reunions but yesterday I did ride a train from Montreal to New Haven and saw Mt. Hermon across the Conn. River. It did bring back a flood of memories including all the fun we had playing soccer on the lower fields and my announcing swimming meets for 4 years."
Doug MacLeod sent a note to the alumni office listing a change of address from Amherst NH to Hilton Head Island SC. A phone call revealed that Doug has actually been living on the island since 1983. "The winters were a lot more conducive to home building," he explained. He now specializes in interior trim work after a long career as a builder. He and his wife Jody have a son in high school and a daughter who graduated from Clemson Univ. He still returns to New England each winter to go skiing and visit his family. He hasn't made a reunion yet, "but I'm planning on getting back," he said. "I was there for 4 years, so it was a big part of my life as an adolescent. Those memories will stay with you, so you feel a part of it forever, I'm sure."
Closing with some news about the Led Balloon Jug Band: Will Melton came through SF in January. We caught a blues show and swapped songs on my mandolin. Will takes lessons on the instrument and recently bought a classic model, a 1921 Gibson H1 Mandola 1921. "I held my breath waiting for it, and I was really pleased to see that it's in near mint condition," he wrote. "So I have new impetus in my playing because the sound is so much bigger and richer."
Jug player Dick Upson is the author of Winworld, a satirical science fiction novel about a 21st-century detective named Joe Nazzarino who tracks a fugitive through a gaming theme park on the moon. Joe's nemesis is the Casino Orphans, a terrorist group that is dedicated to the destruction of all forms of gambling. Dick has also published essays, columns and poetry, and written screenplays and other novels. Winworld is available through Xlibris.com and published on demand. Xlibris publishes original works for a small fee and pays the profits to the author. "Since I have no illusions about anything, I'll gladly admit that I did it because I feel I have talent but I've never gotten a significant break," Dick wrote. "I say that with no rancor or bitterness."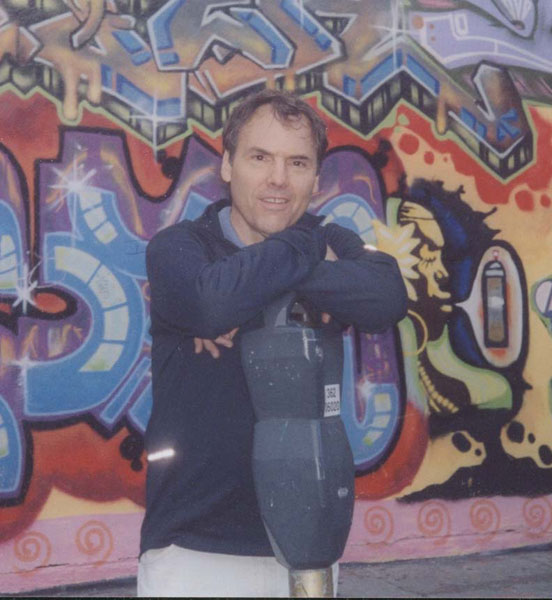 Bruce Burnside on pilgrimage to Haight-Ashbury, August 2006
Led Balloon leader Bruce Burnside, a musician, writer, composer, historian and teacher, lives in a house he built in Bayfield, WI, surrounded by 7 square miles of forest. He finds it a perfect place to write music, especially now that his 3 daughters have all left for college. This year he has 2 new CDs out. "The Bullfrog Banjaree" is a musical storybook for children about a stage show emceed by two frogs, Webb and Sleekie (Bruce). The 10 musical selections range in style from all strings to brass to a female vocal ensemble. The other CD, Three Stag to an Oak, features Bruce's original songs and instrumentals played with mandolin, banjo, bagpipes, fiddle, percussion, guitar, bass and cello. To learn more about Bruce's recordings, go to www.bruceburnside.com. If you missed the news and pics from the 2002 reunion, check out www.nmhschool.org/alumni/classes/1967NMH.html
Mount Hermon Class Notes, 9-22-03
When I told my younger sister that I'd become class secretary, she commented that the class secretaries for her alma maters "always write about the same people." To help avoid that, I promise to send a free 60-minute cassette tape of the Led Balloon Jug Band to any member of the class who writes me 150 words or more, and who hasn't appeared in this column since I took over from Will Melton. The tape has the group's 1967 album on one side and its live recording from 2002, "Hell Froze Over," on the other. Be sure to include your current mailing address.
I'd especially like to know if anyone remembers the lyrics to an anti-Deerfield rallying song that was widely sung during our student days. I can still hum the tune, but these are the only words I recall:
Roll victory wagon, for the team that's hard to beat Roll victory wagon, we'll send the green to their defeat
Writing the class notes is a labor of love for the nearly 150 class secretaries dating back to the 1920s, and we all have different reasons for loving the school. In my case, I had transferred from a very mediocre boarding school in Maine where I was bullied, had few friends, and was unchallenged by the academic standards. MH represented a chance for me to start over when I arrived in junior year. Landing in Camp Hall, the campus' smallest dorm, I immediately became part of a tight-knit group of five friends -- classmates Tom Peterson, Mark Blaisdell, Doug Christo, John Reed and sophomore Tom Meyer.
Tom Peterson, the jokemaster, took pride in making it through the entire first semester, and possibly the year, without changing his bedsheets. We engaged in water wars, placing delicately balanced cups of water over doorways, sometimes containing ink, but always in fun. Our favorite sport was towel ball, a game we may have invented, in which we propelled a plastic drinking cup to the opponent's end of the hallway using a towel rolled into a rattail. I later introduced the game to Johns Hopkins Univ., where it was immensely popular in the freshman dorm.
Those two years at Hermon, spiced by a summer working on the Northfield campus, later came to represent the peak of my educational experience. Out of the five schools and colleges I attended after completing 8th grade in Windham, Maine, MH is the only one that means anything to me. Whether it's through love or gratitude, writing the class notes lets me relive some of those life-changing moments that loom larger each year, even as they fade in memory.
Early childhood, adolescence and middle age sometimes become fused into a single experience. For example, I grew up on the music of Burl Ives, the popular children's singer, and I played his old 78 rpm records on a small record player with a needle as thick as pencil lead. Later I developed a crush for the actress Hayley Mills, which lasted throughout my teens. In 1963, Burl and Hayley co-starred in a film called Summer Magic. I remembered this when I found myself walking alongside my classmate Alex Ives on campus one day. Alex never bragged about his famous father or his Hollywood connections. But on this particular occasion, when I asked him about the film, he revealed that he had been on the set with his dad, and had become friends with Hayley Mills, whom he said was just as charming in person as on the screen. After that, I always looked upon Alex with awe.
In the past two years, since I've started performing children's songs in my new career as an after-school teacher, I've returned to Burl Ives. His 1954 album, Little White Duck and Other Children's Favorites, is still in print, and continues to rank among the top-selling children's albums each year. One of his hits, "The Lollipop Tree," has become my theme song because I've found that it appeals to kids from age 3 to 10. "The Donut Song" is another classic.
To report some more current news, I saw Skip Walker briefly in August when he stopped by my apartment to give my son Carl a book for his 8th birthday, Holes by Louis Sachar, a friend of Skip's. Carl and I read it together and both thought it was a great boy's book. Skip's younger son recently entered Choate School in CT and his elder son remains at West Point. When I talked to Skip about the writing business, he told an anecdote about someone who, like himself is an attorney and novelist: best-selling author John Grisham. Recalling a lengthy review he wrote about Grisham's novel The Client for the Washington Post, Skip said: "I thought the book was just ridiculous, and I made fun of it all the way through the review. I said one nice thing about the book: 'John Grisham is the absolute master of the chase scene.' But then I went on to say that we've had little boys being chased and women being chased. What's next, dogs being chased?" Long afterward, when Walker picked up the paperback edition of The Client, he found a familiar quote among the publicity blurbs: "'John Grisham is the absolute master of the chase scene.' -- Washington Post."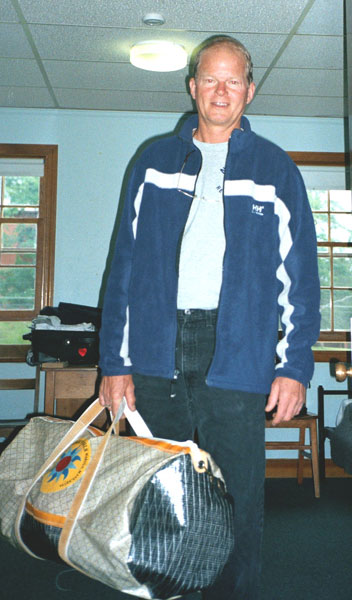 Les Plimpton '67, at reunion 2002
I got an e-mail from Leslie Plimpton, with whom I shared a room at the last reunion. He was the only member of our class who didn't go to college right after graduation. Mr. Kiendl, the headmaster, implored him when he handed Les his diploma, "You'll go on to school, won't you?" Instead, Les took some time off and started working for a builder. His father wanted him to be a chiropractor like himself, so Les obediently tried chiropractic school, but he missed working outdoors. After a couple of years he quit college for good, and soon started his own construction company, Scorpio Craftsmen, in Plymouth, MA. He now has 4 men working for him. Les wrote: "I've been as busy as ever with my business; seems like 30 years of effort and diligence is paying off. In the past 6 weeks I have been in front of this computer maybe 3 times, work deadlines prevail. There is no shortage of projects out there that people want us to do. Mostly new, big fancy houses located on waterfront property.... This past May my youngest daughter, Taylor, got married. She and my son-in-law James have a 3-year-old boy named Carter Leslie. He is the apple of my eye. Experiencing being a grandfather is special beyond words."
I heard from Peter Higgins of Gloucester, MA, who works as the financial officer for a small local company. "It's given me the chance to come home at lunchtime when my children were young, and to enjoy the quality of life around here," he said. He and his wife Jen, a registered nurse, have 4 children, of whom the youngest is 19. His stepson Jesse Amar graduated from NMH in 1987 and is a celebrated sculptor and chair of the art department at Thiel College in Greenville, PA. Peter has been one of the leading supporters and volunteers for the Gloucester Maritime Heritage Center, the only working historic waterfront in the Northeast, where wooden vessels are hauled and repaired, with an aquarium, vessels tracing the fishing history of Gloucester, ongoing construction of wooden boats, and educational exhibits and programs. Peter briefly stopped by the 15th reunion, but hasn't attended any others. "I toy with the idea: 'Oh, I'll go back,' he told me over the phone. "And then it's like, 'Oh my God, the longer it's been, the scarier it gets, cause everybody I picture, including yourself, you're forever young. And it's like, oh my God, I'm 55 now. What's it going to be like? We'll be a bunch of old men, you know, so I end up chickening out. But the 40th, maybe I'll be there, I can't say for sure." I hope you make it, Peter. The only thing you have to lose is your sleep, from getting up very early to carpool for breakfast and staying up way into the night to talk with classmates. The last reunion took me a couple of days to recover, but I didn't regret a minute of it.
Mount Hermon Class Notes, 2-8-04
I suspected something was wrong when I strolled the N campus during reunion 2002 and noticed that the Moody birthplace was in bad need of a paint job. I had expected MH to get the ax because its campus has no particular style, while N looks like the Ivy League.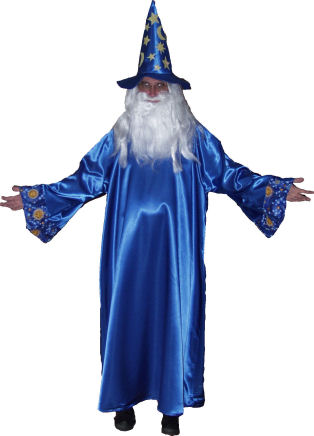 Dave Rockwell '67 in Halloween
costume for his school, made by wife Dianne
Dave Rockwell of Lancaster, MA, who grew up in Northfield and attended MH as a day student, writes: "I was visiting my folks in Northfield today and got the news. I was stunned. The town is also shocked. NMH is the biggest taxpayer and the water/sewer are entwined and the town is already strapped like most towns in the USA with 80% of their budgets going to fund schools. I wish they could have shrunk in a more controlled way. Dad says they will have to build more at MH to accommodate N, and the town has already endured the demise of the Northfield Inn and Chateau which used to bring in the tourists and parents. One can only hope that the infrastructure does not go to waste and some other educational institution can go in."
Will Eddy of Montclair, NJ, shares this mental snapshot from his MH days: "A play I was rehearsing allowed me to be on the N campus one beautiful day in May. From a window high up and overlooking the ceremony I was able to see the crowning of the May Queen; it seemed like dozens of girls in pastel dresses and hair festooned with wildflowers dancing around a beribboned May pole. Not many Hermonite eyes have seen this secret rite. It was especially meaningful, if ironic, because the Queen's crown went to Sam Schreiber with whom I was partners in crime." He adds thoughtfully: "Ultimately, I am encouraged by the news that NMH is making bold moves to remain viable. Nothing less is called for these days. Almighty KRAFT just laid off 6500 people. It hurts but it has to be done. Life will go on. But, it doesn't come without some sense of nostalgia. All those evenings in front of Marquand giving close inspection to the shrubberies before the bus arrived. My dearest memory is this one."
From Willy Herrman in Berkeley, CA: "I'm sure it's the female members of our graduating class who will be the most dismayed!! I never spent that much time on Northfield campus -- orchestra rehearsals and such. But sacred concert will never be the same, and it's one of my fondest memories of the school. I guess the financial burden of operating two campuses was more than the income-generating capabilities of the school. Damn shame!"
Bob Turner, who snapped some of the photos for the original Led Balloon Jug Band album jacket, lives in Omaha, NE and works for the Union Pacific Railroad. "The only other alum I've had any contact with is a guy named Bob Starzel who lives in San Francisco and was my predecessor here," he writes. "He still does some work for us so I see him occasionally. When the news of the consolidation began to spread, he and I talked about it. ... I guess I'm not completely surprised, its hard to imagine that the finances of any school would be strong enough to handle that kind of a burden. I think the challenge for the administration is to handle the move intelligently and to realize that it will be a number of years before the after-effects are behind them. I wish them well."
A couple of other e-mails came in before the big news hit. Tracy Ambler moved his law office from Stonington, CT to Cape Cod. "This has been a two-step process necessitated by the lengthy time it takes to become admitted to practice in a new state. That has now happened. I will not be moving again for awhile." His new address is 75 Salt Box Road, South Yarmouth, MA 02664.
John Cartledge of London, England graduated with our class, but does not appear in the yearbook because he arrived only in January 1967. He had a scholarship from the English-Speaking Union, which ran an exchange program for British and American students. The Fall 2003 edition of NMH magazine, he wrote, "brought back vivid memories of two very different people I encountered during my brief spell on campus, both of whom went out of their way to befriend a very gauche and badly disorientated foreigner who found himself planted somewhat unexpectedly in their midst. Jim Johnson and I were amongst a small group of Hermonites who remained on site during the Easter vacation, and were offered temporary employment -- mainly in spring cleaning West Hall. During those days I learned something of the remarkable personal odyssey which had brought him to MH, and I came to have great personal regard for a young man -- from a background utterly different from my own -- whose courage, intellect and generosity of spirit marked him out as a person of real distinction." The other person he recalled with fondness was Renate Henderson, secretary for Headmaster Arthur Kiendl. "At some point in her life's journey from Berlin to New England, she had lived for a while in the small town of Radlett, north of London, in which I grew up. So when she spotted my home address on some document that crossed her desk, she made a special point of seeking me out to reminisce about the place. I still recall her quoting the lines 'O to be in England, now that spring is here...' Naturally, I was saddened to learn both of Jim's bereavement [for the loss of his wife Diana] and of Renate's death. If you have any easy means of doing so, do please convey my very genuine condolences to Jim, and to Renate's family. I have had no specific occasion to think of either of them for nearly four decades. But as this message evidences, both made an impression on my memory which has lasted down the years, and it is only proper to record my gratitude for the hands of friendship they so generously extended."
Mount Hermon Class Notes, 6-6-04
In March I attended my first-ever house party for NMH alumni in SF. Although no one from the '60s was there, it was a emotional and sociable evening as we swapped memories of the campuses and our sorrow about Northfield's closing. Had an interesting conversation with Rebecca Booth '87, who shares my profession of teaching young children. She reminded me that classes separated by multiples of five years have reunions at the same time. Rebecca, I'm gonna look you up next reunion! The only person at the party older than me was Svein Arber, MH '55, who had an inspiring story. When his SF bookstore/restaurant went bust in 1989, he drove a taxi for 8 years while earning his teaching credential and MA in literature. He started teaching in his mid to late 50s and now has tenure at Lowell, the best high school in SF. I asked Svein when he had first wanted to be an English teacher. He said, "When I was at Mount Hermon."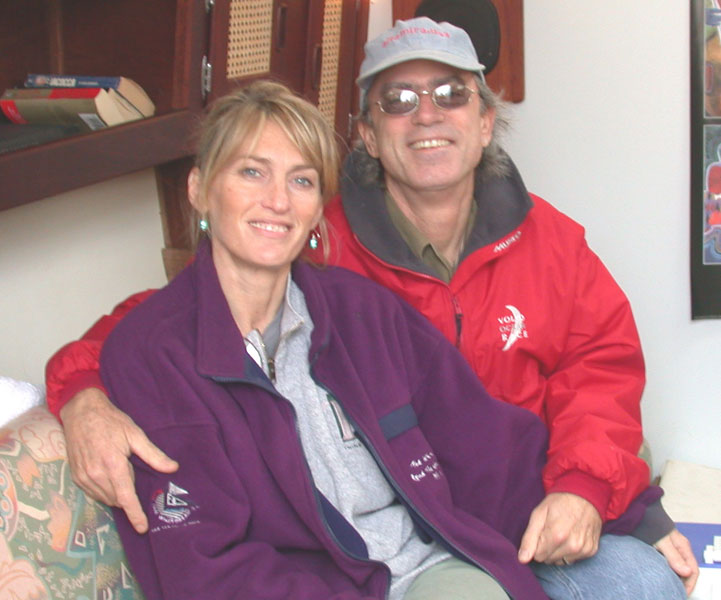 Brand Ginsburg and wife Barbara Lacy on their sailboat
Heard from BRAND GINSBURG, whom I always picture with heels flying and sweat-drenched hair streaming back as he tears toward the finish line. "I enjoy getting the NMH news and am curious where everybody is these days and what they are up to," he wrote. "I now live in Annapolis MD with my wife Barbara Lacy, our children are all grown up and are out of town, son Hickory is 27 and in Albuquerque NM and daughter Tara is 21 and studying in Florence Italy. I have a travel business in downtown Washington DC. ... My wife works as a makeup artist with The West Wing (TV show) as well as having a studio/shop in Annapolis where she sells her 'original furniture art.' We did come to the 30th reunion but were unable to come to the 35th.... See you at the 40th I hope." In a follow-up call to Brand at his company, Executive Travel, I learned that he's had a most eclectic life so far. After graduating from Fairleigh Dickinson, he enrolled at Drew Theological School, decided not to become a minister, and headed for Maine to build log cabins. Next he worked as a home rehabber and importer in Vermont, then moved to the U.S. Virgin Islands, where he first tried schoolteaching, then bought a large boat and spent about 12 years in the charter business, taking tourists from island to island. Now he's on the phone most of the day, but still enjoys sailing several times a week with his wife on their 35-foot sloop, which is anchored 2 blocks from their home. Barbara's shop is called Posh, and one of her creations is furniture made from antique doors. Brand's next plan is to design, build and develop what he calls "land yachts -- little buildings and resorts on remote places." His brother Alan Winslow, originally a member of the MH class of '67 who stayed an extra year and graduated in '68, now lives in SF, so I'll try to locate him and mention him next time.
I was saddened to read of the death of DOUG HOUSTON '69, one of the two dynamic vocalists in the 1966-7 edition of the Hermon Knights. The other, Grady Benn, is a school principal in Knoxville, TN. One of Doug's signature songs was "Just a Little" by the Beau Brummels, a two-hit wonder band from SF that was also famous for "Laugh Laugh." I once saw them perform at a public park here; they sleepwalked through their material like wind-up toys. Doug did the song better, and moved on to a very successful career in the ad business until cancer claimed him. I've still got my copy of the Knights album, and it's still fresh and lively, bringing back to mind those mixers in West Hall. I was hoping that the Knights would reunite someday like the Led Balloon Jug Band. Instead, their album will remain frozen in time, with Doug forever young. If only a former member of the band could reissue it on CD....
Speaking of the Led Balloon, I've made a tape containing both the 1967 album and live 2002 Northfield concert, with photos and liner notes telling the band's history. Anyone who sends me at least 100 words for the class notes will get a copy for free; just include your mailing address. The only person to request one so far is former class secretary TRACY AMBLER, who wrote: "I'm now firmly settled on Cape Cod where I'm practicing law, golfing, hiking and biking. My wife Nancy is a registered nurse in the emergency center at Cape Cod Hospital. Also, 3 of 4 kids are on their own and the last one, daughter Devon, is at Limerick University (Ireland) for a semester abroad, where, interestingly enough, she met a young man from Nantucket -- oh, never mind. Other kid news (I guess that's what parents end up writing about): son Brett will be appearing -- singing and dancing -- from March thru October at Busch Gardens in Williamsburg, VA. Stop by and have a Bud. Use all, some or none of this, as suits you."
BRUCE BURNSIDE has a new CD in 2004 -- "Three Stag to an Oak," his fourth collection of original songs and instrumentals since 1997, performed acoustically with a big supporting cast. The tunes are catchy and the lyrics come from the heart. The title song begins: "Finished my house 'bout the time all my kids moved away. Big old place. Lots to clean. Full of dreams anyway. Can't keep up with the chores. Always more everywhere. Think I'll move into town. Get around better there." I think it's Bruce's best work to date. He will be touring MN over the next few years with a guitarist, cellist and bodhran (Irish drum) player in between other projects. Bruce's recordings are available through www.bruceburnside.com.
Mount Hermon Class Notes, 9-18-04
Just before deadline, I received the new NMH handbook for class secretaries. Here are some of the latest rules for submitting class notes: "Do not include the following: opinions (e.g., on politics, favorite books, NMH policy); lengthy reflections: a brief (1-2 sentences) memory of former NMH days is okay. Do not include reflections on the difficulties of adjusting to a new home, the joys of moving from a cold climate to warm, the experience of being an American traveling abroad, etc. Class notes are about news, not ruminations. Do not include possible future plans: careers being considered, colleges a child may attend, places an alum may move to, and so forth. Strictly limit news of people who are not NMH alums." I apparently broke most of the rules in my last submission to the class notes, which explains why 80% of it was cut by the editor. My bad! Please send me your NEWS news, because I'm a little disheartened by the change in editorial policy and I'm no longer going to launch a fishing expedition for each column as I did before.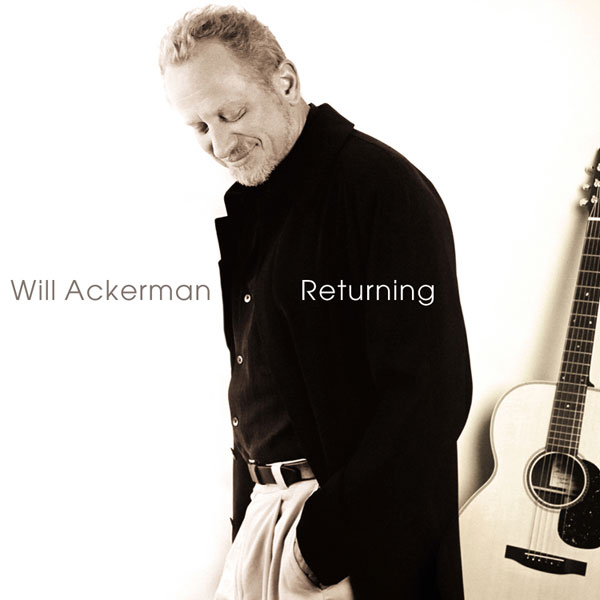 cover of Will Ackerman's Grammy-winning CD,
"Returning: Pieces for Guitar 1970-2005"
And now for the news: Will (formerly George) Ackerman, probably the most famous member of our class, learned about unusual guitar tunings while at MH, and parlayed that into a career. He founded the Windham Hill label in the '70s, sold it to BMG in 1992, and now works as an independent music producer and concert artist. He lives in S Vermont and is building a house in a jungle on the Pacific Ocean in Mexico, where he surfs for much of Jan and Feb. He writes: "I am currently producing 7 projects for others, from a guitar record by a brilliant Italian guitarist named Sergio Altamura to a vocal project with one of the stars of CATS on Broadway. ... Just finished a new CD for Universal Records to be released in Sept (2004), and BMG is doing a Best Of collection for release in the spring of '05. It's titled "Returning: Pieces for Guitar 1970-2005. It will be new recordings of my favorite solos over 35 years of writing." All except 2 songs have a different tuning. He performs at least 25 concerts a year, mainly in Nov and Dec. He began his career as a builder and continues to build in VT. "I've got a lot of acres here and that requires a lot of attention. I've studied some forestry and do a lot of chainsaw work. I've become pretty proficient in that noisy world. I am just about to hop on my Kubota with the Farmi winch, load up 3 Stihl chainsaws and keep working on a paying gig selectively clearly a 3-acre site a few miles from here." He's writing an autobiographical book. "NPR is going to start airing some of my short pieces and a tiny dream sequence has just been picked up by a national magazine. 3 publishers are interested in the book." He is still very much in touch with MH classmate Jim Baldwin, and he will probably attend the '07 reunion. In other news, Dana Gordon just became a columnist for Woodcraft Magazine, a new national woodworking publication. The (semi-)humorous column, "Off Cuts," appears under Dana's nom de plume, Lee Gordon. The first issue hits the newsstands in late 2004. A sample: "Here's the thing about being a middle-aged guy. Most of your friends are other middle-aged guys. One of them is currently undergoing physical therapy for a shoulder injury suffered during a potato sack race at his company outing, so he's no help. Another one is actually able-bodied and, better yet, he 'owes me one' because I helped him haul his jointer from the car to the basement back when he scratched his own tool envy itch. True, his was in three manageable pieces, not fully assembled like mine. And we were both a couple of years younger back then. But it's a moot point anyway because he just moved five states away so it would take a round-trip airplane ticket to enlist his help now."
Mount Hermon Class Notes, 6-4-05
Nice going Will! On February 13, Will Ackerman's 11-song collection of guitar solos, "Returning," won the Grammy Award for Best New Age Album. Released by Decca, it consists of new recordings of 11 guitar pieces he composed from 1970 to 1997. Some were first recorded with an ensemble, but Will stripped them down to their essence for the new album. The Grammy was a first for Will, whose two previous albums were also nominated for the award. Headlines celebrating his triumph appeared in newspapers in Dummerston VT and Palo Alto CA, which both claim him as a resident. He now lives mainly in VT, but grew up in Palo Alto, where he attended Stanford University and formed Windham Hill Records in 1976. His 12 albums are noted for their many different guitar tunings, a trick he picked up at MH, where he was fascinated by a folk tune called "Mole's Moan" played in non-standard tuning. After learning it, he experimented with tunings of his own and invented many new ones. "Returning" comes with a 16-page illustrated booklet about the songs; it's is a must for any Ackerman fan.
Question: What brothers were both members of the class of '67? Answer: Brand Ginsburgh and Alan Winslow. Actually they are stepbrothers who grew up together from age 9, and were originally supposed to graduate together, but Alan took an extra year and finished in '68. When I learned that Alan is a fellow San Franciscan, I contacted him this spring and he and his wife Sam invited me and my wife Salve to their home for dinner. Alan has a high-level engineering job with Intel in Silicon Valley, and was part of the team that developed the flash memory chip used in cell phones. He and Sam married in '71 and spent many years living on a 100-acre farm in Phillipston MA. Alan taught himself electronics and began working in the field in '81. He graduated from Central New England College in '85 and joined Intel in '89, where he became an expert on the machines that test memory wafers. He and Sam lived in Japan from '91-'94, on a sailboat near SF from 1996-2000, and China from 2001-2, and bought their loft in 2003. Sam has been a disk jockey, Head Start teacher and ESL teacher; now she works at home as an editor and writer while Alan keeps crazy hours, getting calls from anywhere in the world at any time. Every year they go to the Burning Man festival. Alan is close to "Brandy," whom he visits once or twice a year when he goes east. Although Alan and I didn't remember each other from MH, we quickly felt like old friends, and the four of us had a warm and wonderful evening together.
Mount Hermon Class Notes, 9-18-05
DAVE ALLEN emailed in his first-ever letter to Class Notes, in response to my standing offer to send a free Led Balloon tape to anyone who submits 100 words. He wrote: "I really enjoyed the tape!!! I have no recollection that I ever heard you guys play live at MH. That's my loss. There was no reason not to, especially with Roche and McBean just down the Hall on Second South. I guess there were lots of fun and creative things happening that I just didn't appreciate at the time. I'm glad I finally caught up with what I had missed way back then. ... After MH, I headed off to Yale, along with Paul Krustapentus and Bernie Sowley. Married and stayed in New Haven a couple of years after graduation. Moved to Albany NY and took an insignificant job in a bank there. Divorced, married again (Annita), relocated to Louisville KY in '92, where I have another unremarkable job in a different bank. Daughter Meredith teaches 6th grade English in Virginia. Son Gregory works for Coors. No grands, yet. Have 8 step-grands who manage to keep us busy and in debt. Still weigh 160 and have just about all of my hair. I read with enjoyment, pride and envy about the varied, satisfying and challenging things that so many of my classmates have accomplished in their personal and professional lives. It's clear that lots of old dreams have been fulfilled and some new ones envisioned, along the way. Well done, my friends." He recalls that Bernie Sowley died long ago, but doesn't know where or how, and is curious to learn what became of his ex-girlfriend, Lucy Little. "Would that be an interesting segment to include in every issue?" he mused. "Pick a few guys who nobody has heard from or about in a long time (like me) and generally ask for info about them. Perhaps the missing person will write directly. Or, someone else will write on his behalf and maybe include some news about himself, too."
BRUCE BURNSIDE'S Bullfrog Banjaree CD won the Best Spoken Word Recording for Younger Children on the Children's Music Web for 2004. Bruce has converted it into a stage show for an entire elementary school "in full costume, with ALL the events including the tongue stretch, loudest bullfrog burp, worm slurp, belly roll, etc. and dance the last day of school. I'll probably film it as well." This year he will record banjo music composed in the 1870s-90s using a full orchestra, for a series of radio shows and his www.forgottenwisdom.com Web site. "Money is always an issue so the site won't be as interactive as I'd like or as detailed about the composers, players, instruments. Something is better than putting it all off until Ed McMahon arrives with the check."
JOHN CARTLEDGE of London, England, reports: "After many years teaching geography in a local secondary school, I escaped into the world of consumer advocacy, and am now deputy director of an agency which represents the views and interests of public transport users. The work is a mixture of dispute resolution at the individual level and political lobbying at the citywide, national and (increasingly) European Union level. My particular area of specialism is that of transport safety. This raises fascinating ethical issues because in order to justify greater public expenditure on safety measures, their benefit has to be demonstrated -- which necessarily involves attaching monetary values to fatalities and casualties averted. The value we assign to a life saved depends very much on whether it is ours, or that of someone known to us, or simply a statistical abstraction. ... If any members of the class of '67 find themselves in central London with an hour or two to spare, and care to ring me in advance, I'd be delighted to reminisce with them over lunch. I can be reached at home on 020 8953 8008 or at work on 020 7726 9980."
DAVE ROCKWELL of Lancaster MA has a new career after 30 years in corporate America. He is a computer technology teacher for students age 6 to 17 at the Robert F. Kennedy Children's Action Corps, a local nonprofit that tries to educate troubled kids. "It's a very sensitive population -- some very broken kids. I have 6 or 7 difficult boys for 2 periods every day, plus all the other grades." His son Ben is in his second year at Art Institute of Boston, part of Lesley College. Dave offered to digitize the Hermon Knights album of 1967 and make CDs available for classmates if someone would lend him a copy. "Mine has long since disappeared. 'Unchained Melody' still gives me chills."
GENE HARMON, whose nostalgic End Quotes piece about his school days appeared in NMH Magazine in 2004, reported that shortly after the article appeared, he received a letter from Dave Burnham, his freshman year adviser, "who played a pivotal role in my returning to MH the following year. He is indeed alive and well in Providence, RI as board president of the Paul Cuffee School at age 75. This means he seeks money to keep the school going. We have exchanged a number of emails and renewed our contact after over 40 years."
Led Ballooner WILL MELTON joined the Providence Mandolin Orchestra in 2004 and also plays with a smaller ensemble. He wrote: "Last night we had a concert in the Providence Library. It's my first foray into conducted, music reading since the school band in 8th grade." He is trying to get all the Led Balloon members to commit to returning for reunion '07. Most are already on board. One possible scenario: a concert that opens with the jug band, followed by a solo performance by Grammy-winning guitarist/composer WILL ACKERMAN.
Mount Hermon Class Notes, 2-13-06
Sorry to read of the death of ARTHUR KIENDL JR., who came in as headmaster during our freshman year and stayed until 1971. He looked like Dwight Eisenhower and was low-keyed, well-liked and respected. The sign outside his house on campus read simply "Kiendl." Someone uprooted it one day; I saw it and took it back to my room in Hayden Hall, where I mounted it on the wall. The housemaster, Tom Carpenter, reported me and I received a demerit. But Mr. Kiendl never reprimanded me personally, apparently relieved just to have the sign back. My only other demerits that year were for removing a wheel from a road grader and rolling it down Mt. Monadnock.
GENE HARMON recalls the time he and his roommate, JEFF HOOKER, visited Northfield at midnight to exchange notes with their girlfriends. "We planned the trip by researching the guard schedules, stuffing our beds to look like someone was in them and checking out the Conn. River bridge then under reconstruction," writes Gene. "There was a 5-foot gap in the roadway which we avoided in the darkness by jumping. My girlfriend, IRMA SIMONSUURI (Finnish exchange student) managed to join BONNIE PARMENTER (Jeff's girlfriend) in her room that night by switching with Bonnie's roommate. Jeff and I walked up to the side of the brick walled dorm, in full view, received the string with the attached notes, attached our notes, and with a wave headed back for cover. We waited for the guard to drive past, on schedule, then hightailed it for Hermon. We never told a soul. It seems extremely innocent today but then we were subject to dismissal if caught. We all graduated a few weeks later." Asked to comment, Jeff contributes: "I suspect that there were at least two talkative females at Northfield as much of Mt. Hermon was actually in on the story. I almost felt 'cool.' They can't expel us retroactively can they? If they can it was all Gene's fault. I was an innocent bystander. Gene is a very bad influence and a credit to the human race."
SKIP CLARK, who attended MH for 1 year as a postgrad, writes: "I was very saddened by the news of Art Kiendl's death. He very much impressed me, and seemed to have a wonderful sense of wisdom." Skip lives in Westfield MA and teaches math at Holyoke Community College and Asnuntuck Community College in Enfield CT. For the past 2 summers he has worked for Hamilton Sunstrand on a project that concerns the prototype spacesuit for the eventual mission to Mars. He and his wife Cheryl have been married for 20 years and have one son, Tyler, a high school senior. Skip has been president of the West State Soccer League since 1989.
From DAVE ALLEN: "Out of the blue, I heard from LUCY LITTLE (now Tucker). So, whatever you said to someone made the rounds eventually. Thanks for providing a way for us all to keep in touch."
Got a newsy email from BRAD WATERMAN, one of my best friends at MH. He's responsible for my change of name from Michael to Max, which he persisted in calling me after seeing it on one of my old notebooks. When we both went on to Johns Hopkins U., the nickname stuck. Brad writes: "I was in Oklahoma City on business last week. I had on the hotel television channel and saw an advertisement for a local restaurant. The pitchman was the owner -- our classmate and former Knights and Jug Band guitarist Craig (a/k/a Tony) Roche. I went to the restaurant and ordered a drink at the bar. Damn if Craig didn't recognize me the moment he saw me." Brad and his wife SUSAN SMITH, who have three grown kids, split their time among D.C., Port Saint Lucie FL, and Stowe VT. "She's a fabulous quilter," writes Brad. "We have become golf freaks. We play every weekend. I'm having great fun practicing tax law, although the travel is somewhat of a grind. I do civil and criminal tax controversy work, meaning that I represent folks who are in trouble with the IRS. One highlight: I've worked for many years with Indian tribes and Native Americans in upstate New York, and in particular, I served as tax counsel and outside general counsel to the St. Regis Mohawk tribe. LORRAINE WHITE (N '87) currently is a Mohawk chief."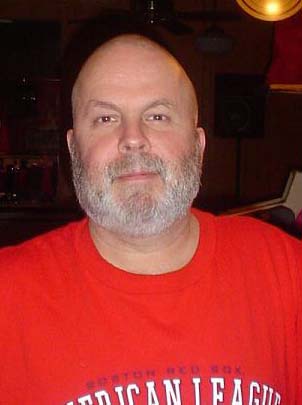 Craig Roche takes it all off for charity
The aforementioned Craig Roche had his head shaved to raise money for a nationwide event called St. Baldrick's, which supports research for children's cancer. Says Craig: "I haven't had a bald head but once before, and that was during my induction into the US Air Force in 1969. I am sure you'll agree that this is for a much better cause." His restaurant, Galileo Bar & Grill, recently wrapped up its 7th and most successful year. He also remodeled a coffeeshop and reopened it as an upscale, sexy cocktail lounge, Isis, that offers hookahs and flavored tobaccos. Craig muses: "I have always wondered about the whereabouts of BUDDY LEVINE, who grew up in the same N Worcester Co area as me." If anyone has heard from Buddy, please send the news along.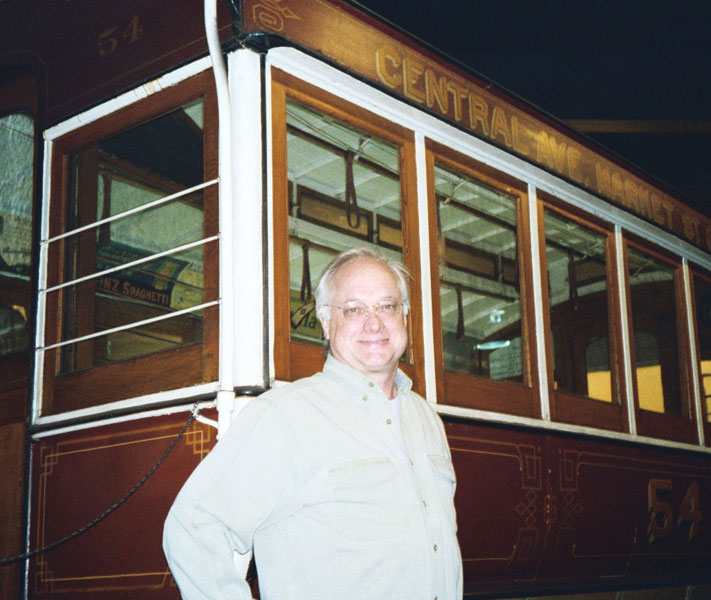 Will Melton visiting San Francisco, January 2003
WILL MELTON is on campus each month in his role as trustee and alumni president. He continues to perform for the Providence Mandolin Orchestra, a 30-year-old group that recently released its 4th CD. His day job is VP for Institutional Advancement at the RI School of Design; his team will complete its $85 million capital campaign this summer. He reports that GEORGE APOSTOLICAS and CHRIS CROSBY bumped into one another on a golf course in FL where George works in real estate development. BILL WALKER is still running the construction firm his dad founded and Bill's daughter is now a rising exec in the firm. BECKY PARFIT and VIN KENNEDY are very involved in NMH business as parents, and Becky as a trustee. Vin continues to travel much in his rescue role for a bank, offering tough love to companies trying to escape bankruptcy and other disasters.
Time to start planning for our class's 40th reunion, which takes place June 7-10, 2007. Registration forms will be available online in late March 2007 and by snail mail in early April. One expected highlight: another concert by the Led Balloon Jug Band. "After seeing our last performance [in 2002], the alumni office is interested in building a Saturday night cabaret around our group," writes Will Melton, the group's chief organizer, who wants to add some new material to the repertoire and arrange for the members to arrive early to practice. Besides Melton, Roche and me, the lineup is: Chris Crosby (banjo), who now commutes from MN to Toronto, where he is responsible for Royal Bank of Canada's international and U.S. businesses; JIM MCBEAN (harmonica) of Putney VT; DICK UPSON (jug) of Rehoboth MA; BRUCE BURNSIDE (guitar) of Bayfield WI (check out his new banjo orchestra Web site at http://forgottenwisdom.com/banjoorchestra/music.html); and torch singer SAM SCHREIBER of Woburn MA, who writes: "I'm living outside of (and working in) Boston with my Brit husband of almost 4 years. On the weekends I direct a senior and a junior choir at our church and host frequent dinner parties which include opportunities to 'ham it up' around the piano." She adds: "Hopefully I'll be at the reunion as well ... and I certainly wouldn't mind learning a few new tunes. I'll 'carry the torch' as long as I'm able."
Mount Hermon Class Notes, 6-4-06
Class secretary needed! I signed up to do the MH part of this column in June 2002, and will relinquish it in June 2007, so if you're interested, please contact NMH Alumni Association President Will Melton at wmelton@risd.edu. In the meantime, I can use some items for my final columns.
By the time this hits print, it will be a good time to cash in your frequent flyer miles and reserve your flight for Reunion 2007, which will take place June 7-10, 2007. Registration forms will go out starting in late March. I'll be back, if no other reason than to blow some harp in the Led Balloon Jug Band's second reunion. If you haven't heard our 2002 concert, write to me and I'll send you a tape. I see that the legendary rock group Cream followed our lead by reuniting in 2005 at London's Royal Albert Hall after 37 years of separation. The Washington Times described in the same way the audience reacted to the Balloon: "a long time coming, but worth the wait."
In the absence of news from our class, I'd like to turn back to some memories of those old days on the Farm.
Of all the courses I took at MH, the most useful one for my later life was Bible with the REV. GLYN JONES, who taught with enthusiasm and always had a smile on his lips. Coming from a nonreligious family, I was quite ignorant of Christian theology before arriving at MH, and even today, I retain a lot from that course. It sparked an interest in the Bible that has grown over the decades. Also I've never forgotten many of the hymns we sang at chapel several times a week. Sometimes the pastor asked for requests, and by far the most-requested hymn was "Come, Labor On!" It was like a drug for boys striving to hit the books just a little harder, and not to get tired or discouraged. Here are some of the lyrics:
	Come, labor on!
	No time for rest, till glows the western sky,
	Till the long shadows o'er our pathway lie,
	And a glad sound comes with the setting sun,
	"Well done, well done!"
WILL EDDY of Montclair NJ writes: "A play I was rehearsing allowed me to be on the N campus one beautiful day in May. From a window high up and overlooking the ceremony I was able to see the crowning of the May Queen; it seemed like dozens of girls in pastel dresses and hair festooned with wildflowers dancing around a beribboned May pole. Not many Hermonite eyes have seen this secret rite. It was especially meaningful, if ironic, because the Queen's crown went to Sam Schreiber with whom I was partners in crime. ... All those evenings in front of Marquand giving close inspection to the shrubberies before the bus arrived. My dearest memory is this one."
JOHN CARTLEDGE of London, England, recalls: "Jim Johnson and I were amongst a small group of Hermonites who remained on site during the [1967] Easter vacation, and were offered temporary employment -- mainly in spring cleaning West Hall. During those days I learned something of the remarkable personal odyssey which had brought him to MH, and I came to have great personal regard for a young man -- from a background utterly different from my own -- whose courage, intellect and generosity of spirit marked him out as a person of real distinction."
From DAVE ROCKWELL of Lancaster MA: "Most of my MH time I was kind of a loner and felt a little on the outside looking in, partly due to the fact that I was a townie whereas most were boarding, and partly just due to personal dysfunction of myself at that point in my life. But discovering girls was wonderful and especially senior year, with a car and the Cloud -- loved the card games, smoking cigs, ranking on the far-out weather guy (Jerry Loman). I just felt part-of for the first time. Having the car got me a little attention, which I was starved for."
Dave and I were co-conspirators in a bold prank during senior year. There was a boy who had somehow acquired a key to almost every door in the school, and sold copies of them. I bought one for the chapel, and a few weeks before graduation, I talked Dave into joining me late at night to go to the top of chapel, where we would ignite firecrackers and throw them off. Writes Dave: "Was it your idea or mine to stuff the firecrackers into Brylcreem and toothpaste tubes?" Whose idea was it to sit on the trap door so they could not get us?" Before long, Dave and I saw the flashlight of a guard and a teacher approaching the chapel. We sat on top of the trap door so they couldn't get us, but it didn't work and we were caught. Next day we each received many hours of yard duty before we would be allowed to graduate. Recalls Dave: "I was thrilled to be invited back to your room when you showed me your explosives cache and keys. I think it was the first time in 4 years anyone had invited me back to the hall. Seems like a long time to make a friend, and just before graduation and leaving, but better late than never. So I thank you for one of the most memorable nights of my life. ... The whole evening felt like a drug experience, almost surreal. I can still see Mr. Pierce pacing around in Cottage 4, shaking his head and ranting about his pregnant wife trying to get some sleep. I was terrified, having been invisible for the last 4 years and now, I thought, probably to be expelled. But I think the fear was later on, the next day. That night inwardly I was still very pumped up, thinking I would be famous for this one, not invisible any more."
Mount Hermon Class Notes, 9-17-06
There are some things that happen to other people that make us stop and consider what is truly important in our own lives, and realize how trivial are most of our problems. This is how I felt when I heard of the tragic death of James McCann Melton at age 27. He was a charming young man and a talented musician who wrote or co-wrote more than 100 songs, many of which were recorded. His Web page on Myspace.com has this tribute from his sister Caroline: "You left us all so suddenly, For reasons we'll never truely know. At least your at peace now, And our love for you is what we must show. You were a brother, a son and a friend to us all, I wish we could have helped in breaking down your wall. McCann we love you and you'll be missed. I send out to my brother a loving kiss." Long-vanished classmate BUDDY LEVINE ("The Budman") reports that since 1979, he's been living in Miami Beach, where he built up a thriving wholesale seafood business. He and wife Barbie sold out in '05 "in order to taste some of the things that those who see daylight enjoy." Their son, Josh, is a contemporary sculptor in NYC, and daughter Rasheena lives in Ann Arbor, MI with her husband & 2 children. "Life has been good to me, as I now have the health, time and resources to travel, build a vacation home in The Poconos in PA, and enjoy life with Barbie. ... I credit my time at MH for helping to set the parameters for making my mark and keeping me out of jail although DAVE ALLEN, LUCY LITTLE, & I had a 3-hr internment in Hingham after we graduated." His e-mail is barbud1@aol.com. CHRIS CROSBY checks in to say his oldest son, Alex, graduated from law school, his middle child, Will, makes the award-winning Firestone Walker Pale Ale, and his daughter Lucy is a HS senior. Chris is in Toronto, "travelling lots for Royal Bank and beginning to contemplate an empty nest and the perennial question: what do I do with the rest of my life?" Heard from DICK FLAGG, who recalled his last meeting with our late headmaster, Art Kiendl. "During his candid talk, he threw a golf ball right at me, which he was found of carrying at all times, saying `and don't drop the ball again, Dick!' Damn if I didn't catch the thing! He is well missed." For the past 20+ years Dick has been based in Taiwan. "As of July [2006] I am a resident of Park City, UT, although I will continue to travel to SE Asia frequently. ... Besides continuing to improve my skiing and enjoy the year-round beauty of Park City and the environs, I'm glad to be closer to family and friends. Speaking of which, I recently `reuined' with [former MH roommate] BRUCE BURNSIDE at his remote but wonderful place in Bayfield WI, built entirely by Bruce with timbers logged and milled from his own acreage. He has a large energy-efficient and very comfortable house, spring-fed and heated by wood, and a fabulous state-of-the-art recording studio. We last saw each other when he visited me in Taiwan several years ago. We're both hoping to keep up with more frequent visits plus see each other at next year's reunion. Meanwhile, anybody coming to beautiful Park City, give me a shout." Speaking of Bruce, he spent a night at my SF apartment in August '06 while attending the wedding of his daughter Eyleen, 25, a grad student in Minneapolis. It was Bruce's first trip to California, and as we rode the bus and cable car, he addressed strangers with the innocent warmth and humor of a Crocodile Dundee. We toured Haight-Ashbury, Chinatown, Fisherman's Wharf and the Second Crookest Street in the World (after Wall St.), ate dim sum, and tried unsuccessfully to find a live band worth hearing. I had the pleasure of meeting his other daughters, both from Washington, D.C., NMH graduate Claire, 23, who works for Youth for Understanding, an international student exchange program, and Timothy, 26, a hip-hop and rap specialist at the Smithsonian Institution. Bruce is writing a lot of short stories these days, and looked great for 57, maybe because he doesn't believe in alcohol, caffeine or microwave ovens, and he chops wood for 3 hours each morning before breakfast. Okay, I made up that last part.
Mount Hermon Class Notes, 2-12-07
Last column before the 40th reunion and my next-to-last before signing off as class secretary!
For reunion, the MH dorms open at noon Thurs. June 7, 2007. I'm arriving at N on Wed. June 6 to stay at Moore Cottage for the first night, but must return to San Francisco on Sat. morning to graduate the next day from the teaching credential program at New College of Calif., to kick off my new career as an elementary school teacher.
I'll bring my harps for the Led Balloon Jug Band's open rehearsal on Fri. night at Camp Hall. We're finally working up some new material! I regret that I'll miss the band's Sat. night performance at NMH's Memorial Chapel, which will be followed a concert by Grammy-winning guitarist/composer WILL ACKERMAN. Almost every Led Ballooner has already committed to returning, with the possible exception of SAM SCHREIBER, who has moved from Woburn MA to Naples FL. From DAVE ALLEN in Louisville KY: "I'm looking forward to the Reunion and want to challenge everyone to make the trip, from wherever they happen to be. I think we'll need name tags to recognize each other, but I expect that it won't take any time at all for us to reconnect."
WILL MELTON retired in June from his fund-raising job for Rhode Island School of Design, after completing a $105 million campaign. He is now working on a professional recording of songs written and performed by his late son McCann. Will and wife ELIZA (N '67) wrote at Christmas: "We are deeply grateful for the outpouring of love and support from family and friends upon the death of McCann, who took his life on September 8, 2006. Many of you called, came, or wrote at that time. Your comforting words, and time, has helped our family as we learn to adjust to a future without the creative energy he brought to our lives." By a strange and comforting coincidence, the funeral was conducted by a minister who looked somehow familiar to Will. He turned out to be JEFF LARSON, MH '66, a cross-country and track star at the school.
GENE HARMON was glad to read in this column about IRMA-RIITTA IRENE SIMONSURRI-JARVINEN (N '67), whom he dated senior year and was the object of his midnight "raid" to N with JEFF HOOKER. Irma also read it, and both of them asked me for each other's email addresses. Gene writes: "Just back from India and Bhutan for a first ever visit. My girlfriend and I spent 22 days over there and included a visit to the holy city of Varanasi -- have you ever been touched by a leper? Have you ever had cremation smoke blown in your face? It's not for the young. Fabulous trip but the poverty is overwhelming in India. Bhutan is much more laid back. Last five days I spent riding trains around."
DAVE ROCKWELL, an information technology teacher in Lancaster MA, writes: "Congrats on nearing certification. No such luck with me but I have been having too much fun with the kids to get down to business. Gonna start collecting pension soon in order to make ends meet."
Do you remember? In January 1966 I wrote to my parents: "The Batman program, which started last Tuesday at 7:30, is extremely popular here. It's so far out that it's in. The TV room in Crossley, about the size of our living room, had 150 boys in it, standing on chairs and desks trying to see Batman. To get a front-row seat you have to run there at 6:30, right after supper."
Some of my best memories at MH were at Camp Hall, where I spent junior year with five other students headed by chief mischief-maker TOM PETERSON '67. The faculty resident was Mr. Freeman, who trusted us and always left his door unlocked. That is, until one day when he was out with his "lady friend" and we decided to check out his digs. Under Peterson's urging, we all sampled some of Freeman's creme de menthe, then replaced the missing liquid with water. Mr. Freeman never said anything about it but he must have noticed, because after that, he always locked his door.
My return to Moore Cottage should trigger a flood of flashbacks because I lived there in the summer of '66 while working as a kitchen aide for the Northfield Conferences. In charge of the dorm were Mr. and Mrs. Jones, the warm and humorous parents of Dr. Howard Jones, the head of schools. JIM JOHNSON, who never misses reunion, was another member of the crew that summer. The boss, Mr. Mertz, almost fired me after a few weeks, but I somehow managed to hold on. The girls lived in Hillside, and every night after work, the boys headed over to the girls' dorm and hung around until lights out. It must have been a chaperone's nightmare. For the summer of 1967 I applied for the same job but wasn't rehired. I made a surreptious return visit anyway and crashed one night in the room of my friend and former workmate TODD AUGUST '66, who brought me some food from the kitchen. Mr. Jones caught me and said I had to leave, which I did the next morning. I can still see him laughing over his favorite joke, about the "constipated jitterbug who couldn't jit."